Mostly the poor or underprivileged women or men don't have formal education and can't get decent jobs in society. Sewing is an essential alternative for those individuals. Often they are prone to choose less-privileged professions to raise their families. We provide free training classes for underprivileged women/ men and supply raw materials and funds to start their business. It gives a chance for them to come out of poverty and attain a promised future for their families.
ISFH offers sewing machines, the most effective resource to help build their self-confidence and earn respect in society. With your contribution or a bit of effort, we can train these individuals to obtain quality sewing skills and stand as self-dependent individuals. They can earn a decent income and have the financial freedom to provide food, needful necessities for their families and send children to school.
ISFH Foundation aims to motivate the women/ men living in poverty to plan for the future by removing the survival worries during their present conditions. Let's unite together to offer a better life for the poor and thrive!
We lend new sewing machines after the completion of the training. We'll be with the trainees from start to the successful completion of the course and support their business until they firmly stand to earn a decent income. Your helping hand is the doorway to add dignity to their lives, and it's a gift of lifetime validity and has the power to leave an impact for generations.
Working for Better People Better India
When everyone's children are going back to school, we don't have money to pay their school fees; our earnings were just feeding us. Our children lost one year of education, and there is no hope for the future. ISFH Foundation Volunteers helped our children to continue our children's education.
Saraswathi Sankar
Our family runs a small vegetable business, and we got severely hit with the lockdown, and our business is no more existing as we can't bear the loss. Maintaining sanitization is difficult initially, and people didn't trust our small selling street business. But the ISFH Foundation helped us to continue our business, and now we are surviving with hope.
Suraj Kumar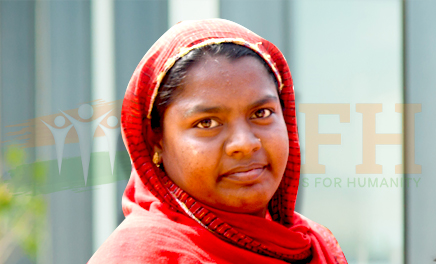 We don't have food to eat during corona and lost our livelihood due to the sudden lockdown. I don't know where to go, and someone said about the Janaki Feeding Movement. I contacted ISFH Foundation through some friend's help. Thankfully, we have got great service in critical times. The food is fresh, tasty, and looks good.
Kusum Toppo
I lost all my hopes when I was diagnosed with pneumonia. We work to feed families and can't imagine getting the right treatment. One phone call from ISFH has changed my life. They said I could get treatment in my nearest private hospitals at zero cost. Even I got free medicine and travel expenses. Within three months, I recovered. Thanks to Tulsi Healthcare Movement, ISFH Foundation.
Rupa Devi