The glory of handicrafts is losing its grace to cater to the growing market needs. Most of the craftspeople belong to underprivileged groups, and their products are known as purely decorative or ethnic. Currently, artisans need support to increase their market opportunities to grow their business. ISFH Foundation helps artisans start, develop, sell their products at fair prices. We supply the materials and resources to the poverty-stricken artisans to improve their living conditions and increase the earning scope.
The innovative crafts designed by the artisans are inclusive of creativity and rich culture. Encouraging the handicrafts leads to increased quality norms by promoting safety, quality, and environment, and there is no gender inequality in handicrafts. ISFH Foundation helps empower the grassroots craft developers and fosters business development and marketing efforts to stand tall in their respective competitive markets.
We strengthen the artists' and artisans' collective efforts by supporting their financial and managerial needs to produce, sell, and expand their market. Hence the underprivileged can lead an economically, environmentally, culturally, and socially stable life.
ISFH Foundation promotes fair trade for artisans by connecting with the various supply chain models to sell with confidence. Artisans are the heritage of our nation and have great glory in the past decades. By helping handicrafts, we can uplift the underprivileged lives and export the products to foreign countries. Be a part of a change to turn the gloom of the poor artisans into illuminating light.
Working for Better People Better India
When everyone's children are going back to school, we don't have money to pay their school fees; our earnings were just feeding us. Our children lost one year of education, and there is no hope for the future. ISFH Foundation Volunteers helped our children to continue our children's education.
Saraswathi Sankar
Our family runs a small vegetable business, and we got severely hit with the lockdown, and our business is no more existing as we can't bear the loss. Maintaining sanitization is difficult initially, and people didn't trust our small selling street business. But the ISFH Foundation helped us to continue our business, and now we are surviving with hope.
Suraj Kumar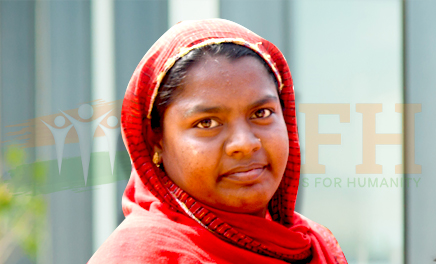 We don't have food to eat during corona and lost our livelihood due to the sudden lockdown. I don't know where to go, and someone said about the Janaki Feeding Movement. I contacted ISFH Foundation through some friend's help. Thankfully, we have got great service in critical times. The food is fresh, tasty, and looks good.
Kusum Toppo
I lost all my hopes when I was diagnosed with pneumonia. We work to feed families and can't imagine getting the right treatment. One phone call from ISFH has changed my life. They said I could get treatment in my nearest private hospitals at zero cost. Even I got free medicine and travel expenses. Within three months, I recovered. Thanks to Tulsi Healthcare Movement, ISFH Foundation.
Rupa Devi