Organic farming is the on-demand farming method in the agricultural sector that avoids pesticides or synthetic fertilizers usage. It uses both eco-friendly pesticides and biological fertilizers. The growing population of India requires increased and healthy food production. We need reduced pest damage and increased productivity, whereas organic farming assures high productivity and profitability at a time. Organic cultivation is environmentally-friendly due to the minimal usage of chemicals, and less chemical-intensity.
Farmers use organic manures to increase the crop as it improves soil texture, allows to hold water for a long time, and extends the soil's fungal and bacterial activity. These will not only assist plant growth but also help the soil to be more productive. At the same time, synthetic fertilizers deplete the nutrients of the soil and make it unproductive. Liquid manures are used as agricultural fertilizer, and these are made from a mixture of organic matter and animal waste. The liquid manure is developed as an alternative to fermented manure.
Organic pesticides are developed from the soil nutrients such as potassium, phosphorus, nitrogen, ethanol, or organic soaps. It slowly and quickly absorbs the plants and provides huge humus to the soil. In general, organic pesticides are safer due to their natural decomposition into the environment, reducing contamination or polluting the water or soil. We need to apply them correctly to be more functional at pest control. ISFH Foundation provides these three varieties of organic fertilizers to boost the crops.
Any farmer can reach ISFH Foundation and collect their organic gift coupon worth Rs. 500, and they can get any organic fertilizers. We spread happiness to the farmers by supplying organic fertilizers for land cultivation to realize a high crop rate. ISFH Foundation is a helpful destination for farmers to get organic farming kits at affordable prices. The government spends 90% for the drip irrigation level of the farmers and the remaining 10% is sponsored by ISFH Foundation. Contact us to get more details on organic farming with ISFH Foundation and associated benefits for the farmers.
Working for Better People Better India
When everyone's children are going back to school, we don't have money to pay their school fees; our earnings were just feeding us. Our children lost one year of education, and there is no hope for the future. ISFH Foundation Volunteers helped our children to continue our children's education.
Saraswathi Sankar
Our family runs a small vegetable business, and we got severely hit with the lockdown, and our business is no more existing as we can't bear the loss. Maintaining sanitization is difficult initially, and people didn't trust our small selling street business. But the ISFH Foundation helped us to continue our business, and now we are surviving with hope.
Suraj Kumar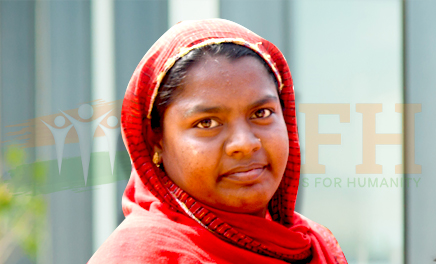 We don't have food to eat during corona and lost our livelihood due to the sudden lockdown. I don't know where to go, and someone said about the Janaki Feeding Movement. I contacted ISFH Foundation through some friend's help. Thankfully, we have got great service in critical times. The food is fresh, tasty, and looks good.
Kusum Toppo
I lost all my hopes when I was diagnosed with pneumonia. We work to feed families and can't imagine getting the right treatment. One phone call from ISFH has changed my life. They said I could get treatment in my nearest private hospitals at zero cost. Even I got free medicine and travel expenses. Within three months, I recovered. Thanks to Tulsi Healthcare Movement, ISFH Foundation.
Rupa Devi