Procure Great Crop Quality & Quantity
Mulch is a protective layer built with plastic sheets, compost, or straw to cover the plants, and prevents excessive erosion, evaporation, and enriches the soil. The mulching technique adds a layer to the soil on all sides of the plant. The mulching film helps suppress weed growth, avoids water loss during evaporation, and regulates soil temperature. The material used for the mulching film is LLDPE & LDPE material. ISFH Foundation helps the mulching film business owners or farmers with financial assistance, material provision and affords needful resources.
Mulch Films modify soil temperature, reduce weed growth, limit moisture loss, and increase crop yield and precocity. The requirements to arrange mulch films are sufficient light & thermal stabilizers to maintain intermediate chemical resistance. It prevents the plants from exposure to higher solar radiation due to their thickness. The benefits of using mulching films in the cultivation increase crop quality and quantity, weed growth minimization, water retention, temperature control for soil, and soil disinfection before sowing.
Durable mulch films are mandatory to protect the crop yield. Hence we need to secure the films against agrochemicals and solar radiation. The mulch films should be biodegradable, which will reduce the farmers' labor to avoid direct plowing; this can greatly save money and time. There are multiple kinds of mulches, and we need to use the right mulch based on the type of crop. The quality mulch film has greater tear strength and correct plant fitting. Additionally, the film will secure the soil and crop from unfavorable weather conditions.
ISFH Foundation supplies materials, resources and financially aids the farmers or mulching film business owners to start the business. Cultivation and agriculture are a great part of India's culture, and we support every possible effort to increase crop quality and quantity through mulching films. If you are a small entrepreneur or interested in starting this business, contact ISFH Foundation to welcome a new beginning.
Working for Better People Better India
When everyone's children are going back to school, we don't have money to pay their school fees; our earnings were just feeding us. Our children lost one year of education, and there is no hope for the future. ISFH Foundation Volunteers helped our children to continue our children's education.
Saraswathi Sankar
Our family runs a small vegetable business, and we got severely hit with the lockdown, and our business is no more existing as we can't bear the loss. Maintaining sanitization is difficult initially, and people didn't trust our small selling street business. But the ISFH Foundation helped us to continue our business, and now we are surviving with hope.
Suraj Kumar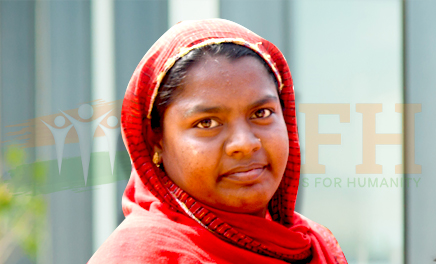 We don't have food to eat during corona and lost our livelihood due to the sudden lockdown. I don't know where to go, and someone said about the Janaki Feeding Movement. I contacted ISFH Foundation through some friend's help. Thankfully, we have got great service in critical times. The food is fresh, tasty, and looks good.
Kusum Toppo
I lost all my hopes when I was diagnosed with pneumonia. We work to feed families and can't imagine getting the right treatment. One phone call from ISFH has changed my life. They said I could get treatment in my nearest private hospitals at zero cost. Even I got free medicine and travel expenses. Within three months, I recovered. Thanks to Tulsi Healthcare Movement, ISFH Foundation.
Rupa Devi