This project enables to help farmers and villages at a time. We are a nonprofit working for the underprivileged and marginalized sections of the rural population by focusing on farmers' improvement and multiplying their crop yields. We promote livelihood development, micronutrient usage, addressing climate changes, etc., to protect and increase the crops. The vision and mission of Gram Udhan involve fighting against poverty, discrimination, and exploitation of village framers. Hence they become equal members of society by living an esteemed life.
We instill sustainable agronomic practices to reduce the farm input costs to benefit the farmers by supplying organic fertilizers and inspire them to use effective methods to increase the crop. ISFH Foundation proposes new agricultural practices of providing nutrients to the plants through organic farm landing. The ISFH Gram Utthan refers to the raising of villages by supporting the farmers' agricultural cultivation.
The program is an effort to alleviate social and economic issues. The team of ISFH Gram Utthan is well-versed in agricultural cultivation, dynamic, committed, and energetic network aims to ensure a happy farming experience for the farmers. Making the farmers self-dependent is the main criteria of the Gram Utthan Program. We supply organic kits to the farmers, solve their cultivation hassles, and assist financially.
The government allots 90% of funds on drip irrigation projects, and the farmers need to pay the remaining 10% from their pockets. Now the good news is that ISFH sponsors the remaining 10% for the drip irrigation project. We supply organic kits to the farmers, including organic manures, organic liquid manure, and organic pesticides. For the first time, registered farmers can avail of Free Rs. 500 Coupon to get organic fertilizers. Next time onwards, a very nominal charge to be paid to get the organic kit.
Working for Better People Better India
When everyone's children are going back to school, we don't have money to pay their school fees; our earnings were just feeding us. Our children lost one year of education, and there is no hope for the future. ISFH Foundation Volunteers helped our children to continue our children's education.
Saraswathi Sankar
Our family runs a small vegetable business, and we got severely hit with the lockdown, and our business is no more existing as we can't bear the loss. Maintaining sanitization is difficult initially, and people didn't trust our small selling street business. But the ISFH Foundation helped us to continue our business, and now we are surviving with hope.
Suraj Kumar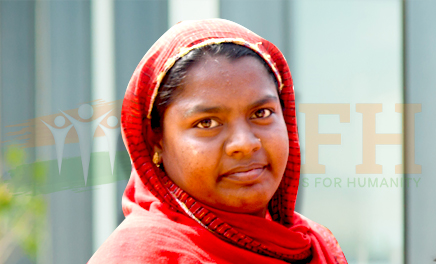 We don't have food to eat during corona and lost our livelihood due to the sudden lockdown. I don't know where to go, and someone said about the Janaki Feeding Movement. I contacted ISFH Foundation through some friend's help. Thankfully, we have got great service in critical times. The food is fresh, tasty, and looks good.
Kusum Toppo
I lost all my hopes when I was diagnosed with pneumonia. We work to feed families and can't imagine getting the right treatment. One phone call from ISFH has changed my life. They said I could get treatment in my nearest private hospitals at zero cost. Even I got free medicine and travel expenses. Within three months, I recovered. Thanks to Tulsi Healthcare Movement, ISFH Foundation.
Rupa Devi