Enable the Homeless To Access Fair & Decent Homes
Living in a decent and safe home is a minimum need for every human being as we know that a secured and safe home is the foundation for a quality life. Surviving and withstanding is not possible in the bad weather, rain, sun, etc., conditions without a home. ISFH surveys the housing needs of the people who can't afford to construct a house or repair their damaged living place. We start our work from the most vulnerable families such as orphans, disabled, female-headed, aged, and poor households.
Billions of people in the slums and rural areas live in a deficient home environment where the roofs are leaking, and doors are missing, walls are not sturdy, and prone to collapse. Building safe homes is mandatory to tackle poverty in the nation. Safe and decent homes are necessary to remain healthy and protected. ISFH Foundation works with associated partners to quickly build homes for the poor.
Children growing up in poor housing may lose their future chances of attaining dignified positions in society. From childhood to adulthood, children need a healthy and comfortable learning experience. They are prone to remain with substandard educational achievements, unemployment, or impoverishment when they become adults. Improper homes impact the health of people living in homes due to inadequate hygiene maintenance.
Building a home of hope for the ISFH Foundation enables the homeless to access comfortable living places by handing over a happy home. We build stability, self-reliance, and strength through our building homes. We can overcome poverty, disease spreading, and harm by offering a dream home for the poor. Poverty is invading, and billions of people are raising the hands to save their lives. Join ISFH Foundation's Building Homes Mission Today.
Working for Better People Better India
When everyone's children are going back to school, we don't have money to pay their school fees; our earnings were just feeding us. Our children lost one year of education, and there is no hope for the future. ISFH Foundation Volunteers helped our children to continue our children's education.
Saraswathi Sankar
Our family runs a small vegetable business, and we got severely hit with the lockdown, and our business is no more existing as we can't bear the loss. Maintaining sanitization is difficult initially, and people didn't trust our small selling street business. But the ISFH Foundation helped us to continue our business, and now we are surviving with hope.
Suraj Kumar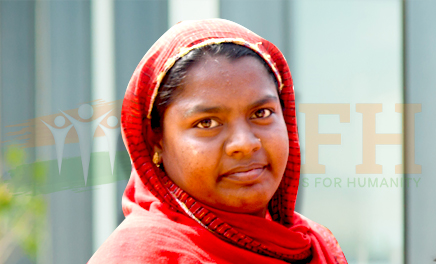 We don't have food to eat during corona and lost our livelihood due to the sudden lockdown. I don't know where to go, and someone said about the Janaki Feeding Movement. I contacted ISFH Foundation through some friend's help. Thankfully, we have got great service in critical times. The food is fresh, tasty, and looks good.
Kusum Toppo
I lost all my hopes when I was diagnosed with pneumonia. We work to feed families and can't imagine getting the right treatment. One phone call from ISFH has changed my life. They said I could get treatment in my nearest private hospitals at zero cost. Even I got free medicine and travel expenses. Within three months, I recovered. Thanks to Tulsi Healthcare Movement, ISFH Foundation.
Rupa Devi